Fall Release RSVP - Richland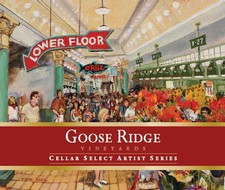 We are excited to share with you the Fall Cellar Select Society Wine Club release!
For our Silver and Gold Cellar Select Members we will be releasing two red wines and two new whites for our Snow Goose White Wine Club. Please note that your credit card on file will be charged for your wine on September 28th. Please make sure your account is up to date.
Date: Sunday, October 2nd
Time: Noon to 4pm
Who: Cellar Select Members
Where: Richland, Woodinville and Leavenworth Tasting Rooms
Cost:
Complimentary for wine club members only. MEMBERS MUST RSVP in advance. Guest tickets may be purchased for $25 by contacting the tasting room manager (Woodinville, Richland, Leavenworth) at your pick up location. Guest tickets are limited.
What:
We will have light bites and be tasting 5 of our fabulous wines, including the 4 new wine club wines.
RSVP's are required by September 25th for all to attend. Please add your tickets to the cart and checkout to submit your FREE RSVP for the **Richland Tasting Room** celebration!