WDVL 08/10/18 Harry Potter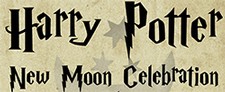 Title: Harry Potter New Moon Celebration
Date: Aug. 10th
Time: 6pm to 9pm
Tickets Available: $45 a person, $35 for club members
Event Details:
The full moon transforms Lupin into a Werewolf, what does the New Moon transform you into?
We are hosting a Costume Contest at Goose Ridge Estate Winery in Woodinville Washington. This Harry Potter inspired party will make you feel like you just entered Hogwarts in the heart of Wine Country. There are going to be a few enchanting activities and delicious Potions to enjoy like; Quidditch Pong, House Sorting, Amortentia Love Potion, Butter Beer, Trivia and more.
Tickets available online or at the tasting room. 425.488.0200
$45 per person or $35 for Goose Ridge Club Members.
Tickets include entry to this celebration and a glass of your choice of Butter Beer or Amortentia Love Potion as well as a Harry Potter inspired gift from Goose Ridge.