Live Music with Ian Jones
| | |
| --- | --- |
| Date: | Sat, Jun 8, 2019 |
| Time | 3:00 PM to 6:00 PM |
| Venue: | Leavenworth Tasting Room |
| Contact: | Paula |
| Phone: | 509-470-8676 |
| Email: | paulat@gooseridge.com |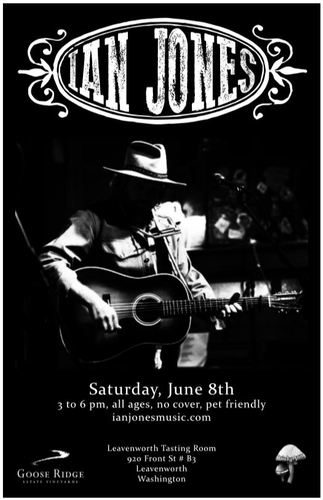 Ian Jones's new EP Results Not Typical Part I, out now on Thin Silver Records, takes you on a virtual road trip through American landscapes, broken hearts and crying in your beer at the end of the day. After years of making DIY records in his basement, Seattle native Jones decided to hit the road and join up with producer Jesse Siebenberg (of Lukas Nelson and the Promise of the Real and Supertramp) in beautiful Ojai, California. Recorded at Brotheryn Studios with Siebenberg, Results Not Typical Part I features solid performances from drummer Joey Waronker (Beck, REM, Paul McCartney), bassist Johnathan Flaugher (Ryan Adams), bassist Gabe Noel (Afghan Whigs, Father John Misty), guitarist Jason Soda (Miranda Lee Richards), violinist Paul Cartwright (Father John Misty), pianist Dave Palmer (T-Bone Burnett), and pianist Aaron Embry (Willie Nelson, Edward Sharpe and The Magnetic Zeros). After years of wanting to make a record with a world class line up, it was finally happening.
Results Not Typical Part I, Jones' second solo effort, is the result of advice given to "pick a lane", or combining songs with a similar sound, theme and genre on one record. Ian sat down and worked on a central theme which started out as a basic chord progression and set of riffs. A majority of the songs from this project are just a theme and variation on those chords and riffs, or this "lane". Jones brought in a handful of previously written songs such as Rollin which is a song about his time spent touring, and Goodbyes Are The Hardest Words which is a song he penned prior to his move from Seattle to California in 1999. The first song written with this theme is Athens Smiles which is a story about a girl on tour from Athens GA, that Jones had played a show with a few years earlier. Even though the writing theme is consistent, Siebenberg was able to put the recording together in such a way that the songs flow into each other without sounding the same.
Ian had started this recording project in Seattle in 2015 but it got off to a rough start. "It seemed like I was just not supposed to make this record in Seattle" Jones said. After consulting with a few friends in Seattle, Jones turned to his California music friends for advice. Santa Barbara native John Mooy suggested mutual friend and musical colleague Jesse Siebenberg, as he was taking some time off after having his new son. One thing led to another and the long- distance pre-production process began. On a brief west coast tour in 2016, Jones visited Ojai and Brotheryn studios and the schedule was set, songs selected and line up of players made final. A few months later over a long weekend, the tracks were cut live over a two-day period, and Results Not Typical Part I came to life. Over the next few months, overdubs were added and Seibenberg rounded out the sound with his additions.
No stranger to the recording studio, Results Not Typical Part I is Jones' second true professionally produced solo album. Having worked in many studios over the last 20 years including legendary Cello Studios in LA, and Avast and London Bridge in Seattle, Jones states "I've taken all the mistakes and lessons I've learned in the studio over the years and put them to work on this project. It's been a long journey, but I feel I've finally hit my stride". He adds, "This EP is the first half of what is going to be an amazing record. I couldn't be happier with the guys or the process and Jesse is truly amazing." Jones is looking forward to hitting the road in the spring of 2019 to support the upcoming release of the full length Results Not Typical due out late spring/early summer of 2019.