2016 Vineyard Legacy Tour
| | |
| --- | --- |
| Date: | Sat, Oct 1, 2016 |
| Time | 1:00 PM to 9:00 PM |
| Venue: | Goose Ridge, Analare, Ciel du Cheval |
| Contact: | Tiffany |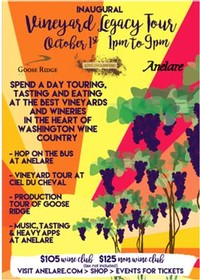 We are so excited to announce and invite you to participate in our inaugural Vineyard tour event, to include Ciel du Cheval Vineyard with Jim Holmes narrating the story and history of the vineyard and unto Goose Ridge Production facility to see harvest first hand, and then unto Anelare for a celebration finale.

All stops to include a food and wine pairing with narratives from the experts themselves. Transportation with be provided, leaving and returning to Anelare.

This is certain to be a fun filled day and we do hope you can join us. If you click on the below link it will take you to our website where you can purchase your tickets.