Lamb Jam Seattle - 2018
| | |
| --- | --- |
| Date: | Sun, Jun 24, 2018 |
| Time | 3:00 PM to 6:00 PM |
| Venue: | Seattle Design Center Events 5701 6th Avenue South Seattle, WA 98108 |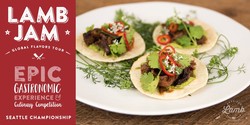 On Sunday, June 25th, 16 chefs from the hottest restaurants in town will duke it out for the title of Lamb Jam Seattle Champion. From lamb belly ramen to lamb ham cubanos, these chefs will take food lovers on a culinary tour across the globe as they compete in 4 cuisine categories: Asian, Latin, Mediterranean and Middle Eastern. And the gastronomic experience doesn't end there; bartenders, winemakers, brewers and culinary artisans of all sorts will join in on the fun. Whose American lamb dish will reign supreme? Attendees and local food media will decide.
Seattle is the fourth stop on this multi-city cook off that bring together the nation's top culinary talent to celebrate the 80,000 family operated farms and ranches raising lamb across the nation. Victors are named in each global flavor category and a "Best in Show" champion will advance to the finale later this year to compete with Lamb Jam winners from Seattle, San Francisco, Washington, D.C., and Boston, for the ultimate title of "Lamb Jam Master."
This event is brought to you by Tasty Creative and the American Lamb Board. For more information about the American Lamb Board please visit americanlamb.com. Ticketing and event information is available at americanlambjam.com.