Our Land
Our vineyards are located on a 'saddle' of land called Goose Gap, in the Columbia Valley, between Red Mountain and the Horse Heaven Hills. Arvid Monson's initial vision for growing grapes on this land was validated first by Walter Clore, the visionary behind Washington's wine industry, in 1998. Today, our family owns the largest contiguous estate vineyard in Washington State, with more than 2,200 acres of vineyards producing world-class fruit.
The Monson family continues its pursuit to be good caretakers of the land overall. Taught at an early age that "you don't farm for this generation, you farm for the next generation," the third and fourth generations of Monsons believe the same principle applies to the family's winery.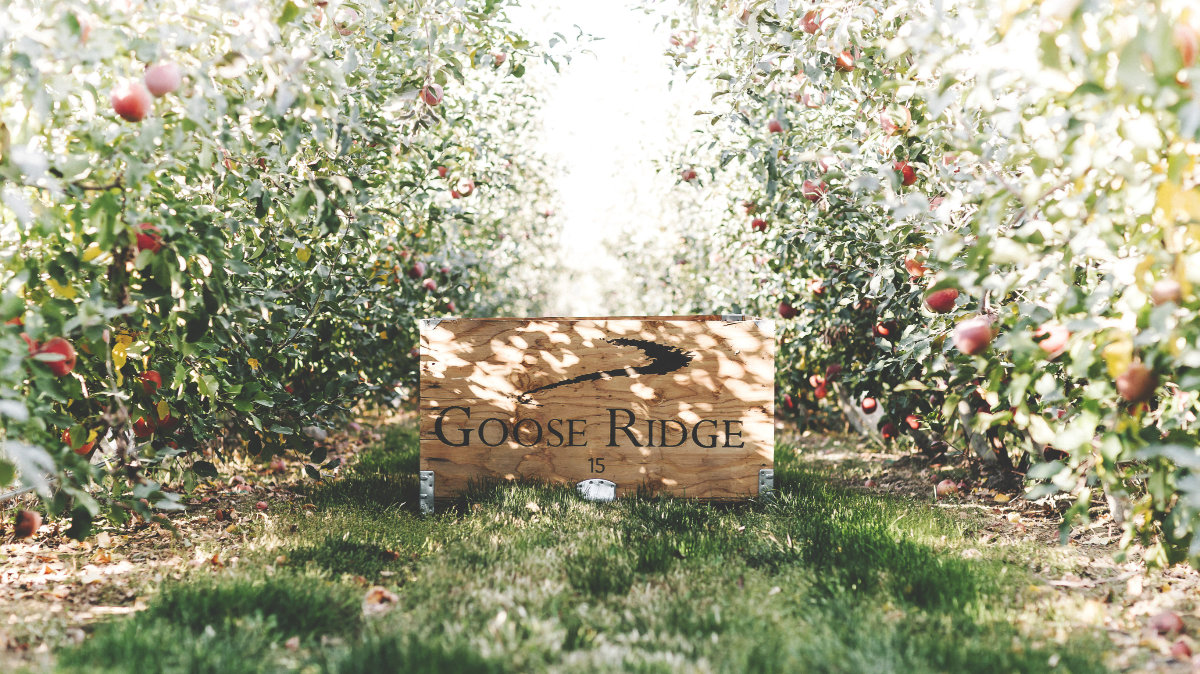 Vineyards/Orchard/Cattle
Goose Gap has so much more than just vineyards. Our estate is lined with apple orchards and cherry trees along with hundreds of grazing cattle. When walking our estate vineyard, you can't help but notice the tremendous wildlife, including owls, bats, hawks, coyotes, badgers and falcons, all contributing to the sustainability efforts in farming. Multiple varieties of cover crops are planted to help rejuvenate the soil and help with pest control.
The Monson's first apple orchard was planted in 1979, spearheaded by Arvid Monson's children, Bill, Valerie and Molly. While the first orchard was planted to Red Chief Apples, over the years many apple varieties have been added. The apple and following cherry orchards were the Monson family's first step outside of the cattle business before planting the vineyards.
The Monson's take their role as farmers seriously, amplifying the great viticultural factors Mother Nature gives them and making an unwavering commitment to sustainable farming practices through modern vineyard management techniques.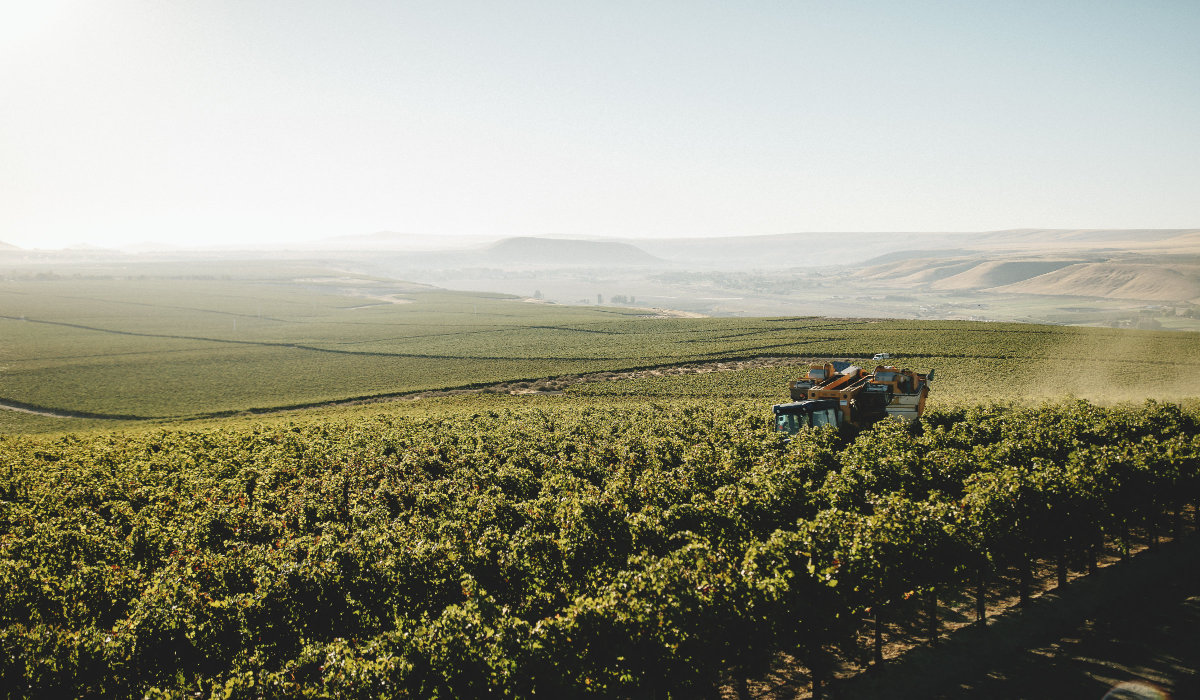 Goose Gap AVA
The Monson family planted the first vines in 1998, and in 2021 the Alcohol and Tobacco Tax and Trade Bureau (TTB) confirmed Dr. Clore's discovery when it recognized the estate vineyard's geology, soils, elevation, and slope direction as clearly unique to this region naming Goose Gap Washington's 19th American Viticultural Area (AVA). Referring to a saddle between Goose Mountain to the west and Badger and Candy Mountains to the east, Goose Gap and Goose Mountain are included within the boundaries of the appellation, which gets its name for being a common pathway for migratory waterfowl.
When Arvid Monson decided to plant grapes on the sun-drenched hill adjacent to Red Mountain, he did so under the guidance of Dr. Walter Clore, considered by many to be the "father" of the Washington wine industry. Dr. Clore was impressed by the gentle, south-facing slope and the growing area's warm temperatures.
As the largest vineyard development in the lower Yakima Valley to be planted dominantly on Goose Gap's north and northeast slopes, the Monson family is capitalizing on the unique and diverse qualities of the Goose Gap AVA to continue their family farming traditions.
Today, Goose Ridge Estate Vineyard & Winery remains committed to producing compelling wines from the 16 varieties that are grown in the AVA as the family continues to highlight Goose Gap throughout their entire Goose Ridge and Destination Brands portfolio of wines and spirits made for today's discerning consumers.
ACREAGE
8,129 acres within the AVA
1,800 acres under vines
SOIL
Deep windblown silt and fine sand overlaying Missoula flood sediment.
ELEVATION
The AVA peaks at 1,339 feet at the top of Goose Mountain and falls to 577 ft along the southern boundary.
MAIN DISTINGUISHING FEATURE
Orientation of Goose Mountain's ridge crest, which runs east to west, as compared to nearby Red Mountain, Candy Mountain, and Rattlesnake Mountain, which run northwest to southeast.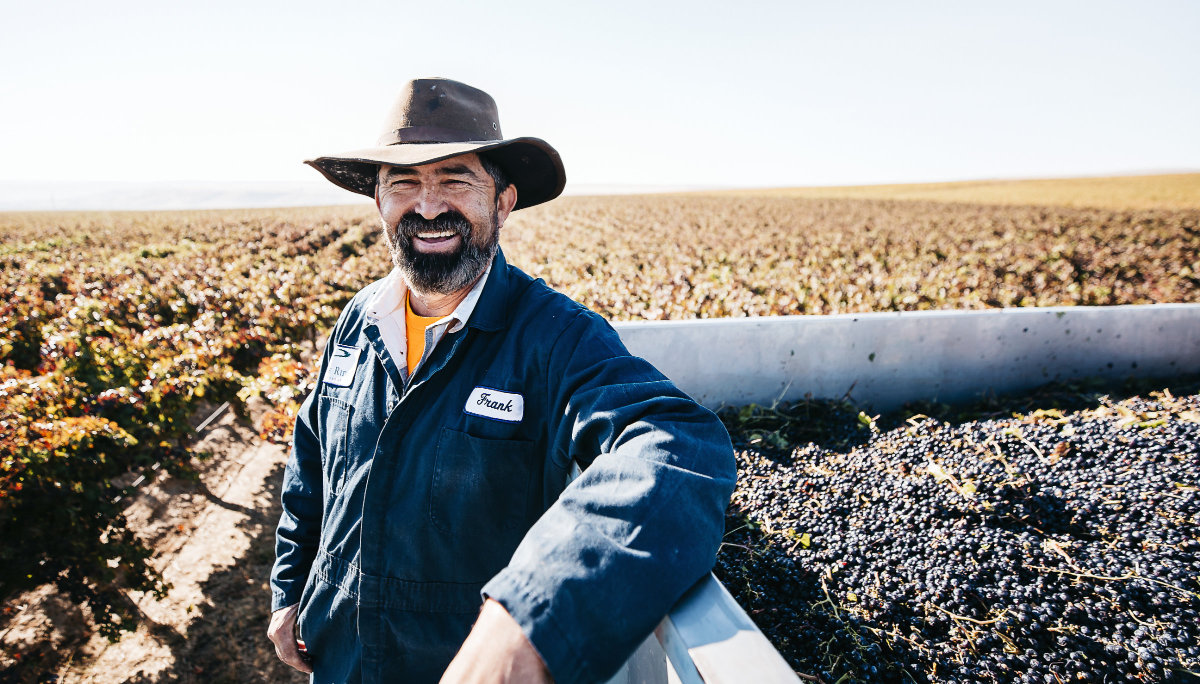 Sustainable WA
The Washington Winegrowers recently partnered with the Washington Wine Commission to create Sustainable WA, a 3rd Party certified Sustainability program for Washington grape growers. Sustainable WA is a framework of best management practices that focus on the three pillars of sustainability: environmental responsibility, social equity and economic viability. Goose Ridge was among the first vineyards to gain the certification and we are very proud of the way we farm our grapes.
When Washington grape growers participate in Sustainable WA, they're committing to sustainable viticultural practices, which Washington Wine describes as a "rigorous, science- based program built with continuous improvement in mind." Viticultural practices are audited by a third party ensuring that operations meet the established standards. While the current certification addresses options for vineyards, plans are in place to add certification for wineries in the future.
"Having our ongoing sustainable viticultural practices certified through the Sustainable WA program represents a promise to our community, consumers and customers that the Monson family is steadfast in our commitment to the land, environment and our people," said Bill Monson, Goose Ridge Vineyard & Winery President.