Winemaking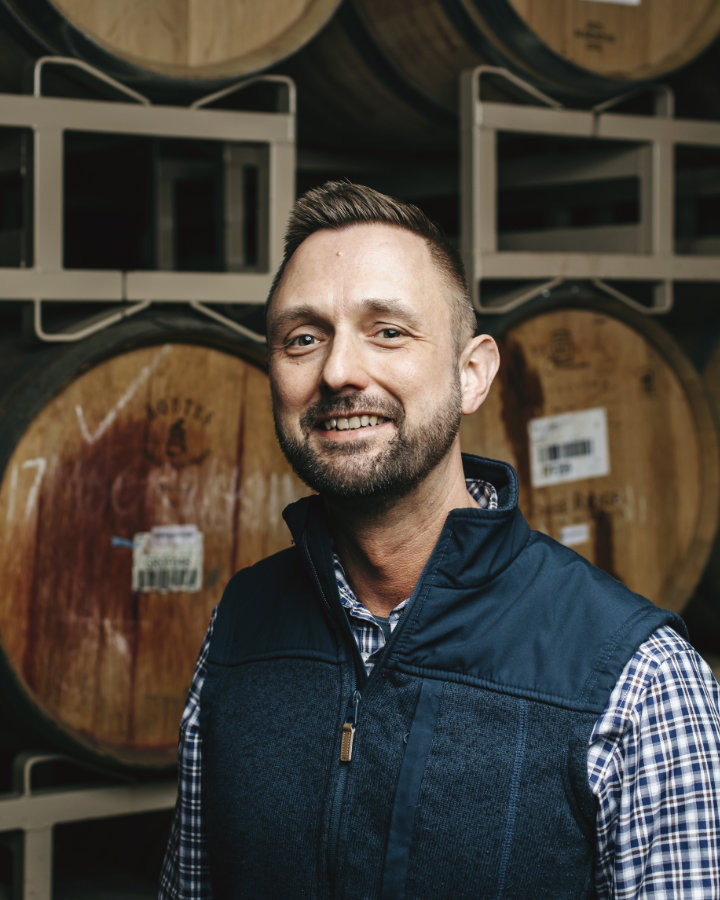 Andrew Wilson
Head Winemaker
Andrew Wilson brings 12+ years of experience working with a wide range of vineyard sites, varietals and wine styles at both large and small winemaking facilities to Goose Ridge Estate Vineyards.
In Walla Walla, Andrew worked under veteran Washington winemakers Marie-Eve Gilla at Forgeron Cellars and Gilles Nicault at Long Shadows Vintners. Andrew then became General Manager of Artifex Wine Company, where he worked with many premium boutique Walla Walla wineries again working on a wide variety of different wines and styles.
Andrew crafts Goose Ridge wines steps away from where the grapes are grown in a state-of-the-art winery opened in 2008. Andrew's proximity to the vines is every winemaker's dream. During the growing season, he works in partnership with a vineyard team tending select blocks for low yields, vine balance and optimal canopy exposure, then tastes the fruit daily during harvest before making the call to pick.
Harvest is something like a candy store for Andrew, who is free to zero in on the best fruit for the family wines – three rows here, four rows there. "Our winery is right in the vineyard, so we can react very quickly to bring the fruit precisely when it is ready."
Andrew specializes in Merlot and Cabernet Sauvignon, with a focus on an opulent, concentrated style.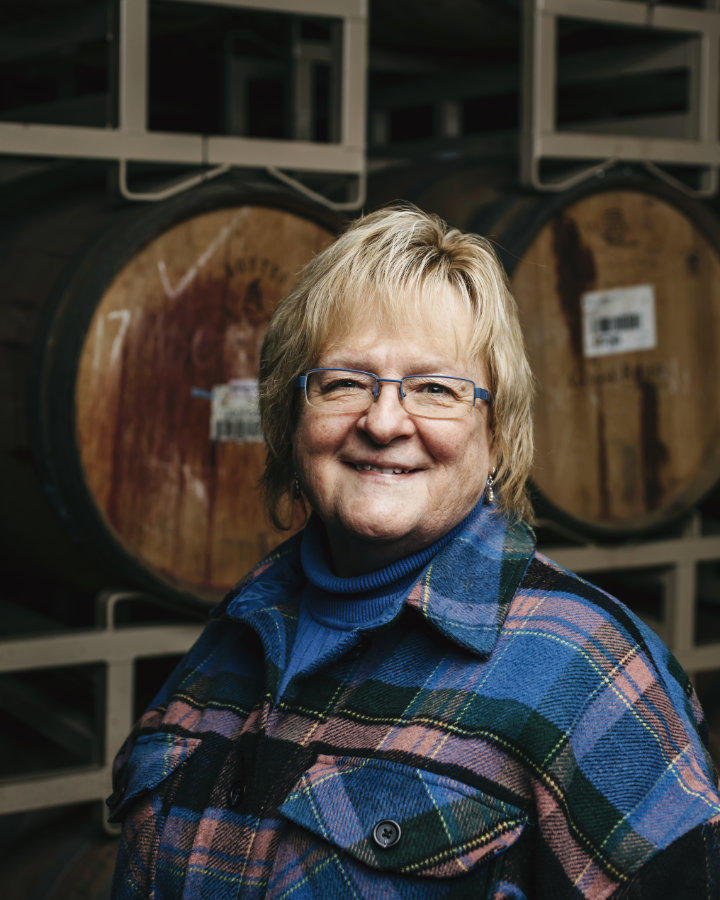 Maurine Johnson
Winemaker
Maurine is an experienced wine industry veteran with over 34 years in the industry. She joined the Goose Ridge team in July of 2019 working as the macro cellar winemaker. She manages winemaking for Stonecap and Cascade Outfitters and serves our custom crush customers.
Maurine spent the majority of her career a Ste. Chapelle Winery in Idaho. Looking to shake up her world and work with some different fruit, Maurine moved to Washington in July 2016. This move gave her the opportunity to work with fruit from some of Washington's finest regions including, Red Mountain, Rattlesnake Hills, Snipes Mountain, Horse Heaven Hills, and Wahluke.
She has benefited from many gracious mentors throughout her career. Mimi Mook and Kevin Mott taught her the ins and outs of winemaking for both still and sparkling wines. She came to understand ripeness and flavor development with guidance from Chuck Devlin. Maurine continues to use all these lessons and more in her day-to-day role at Goose Ridge.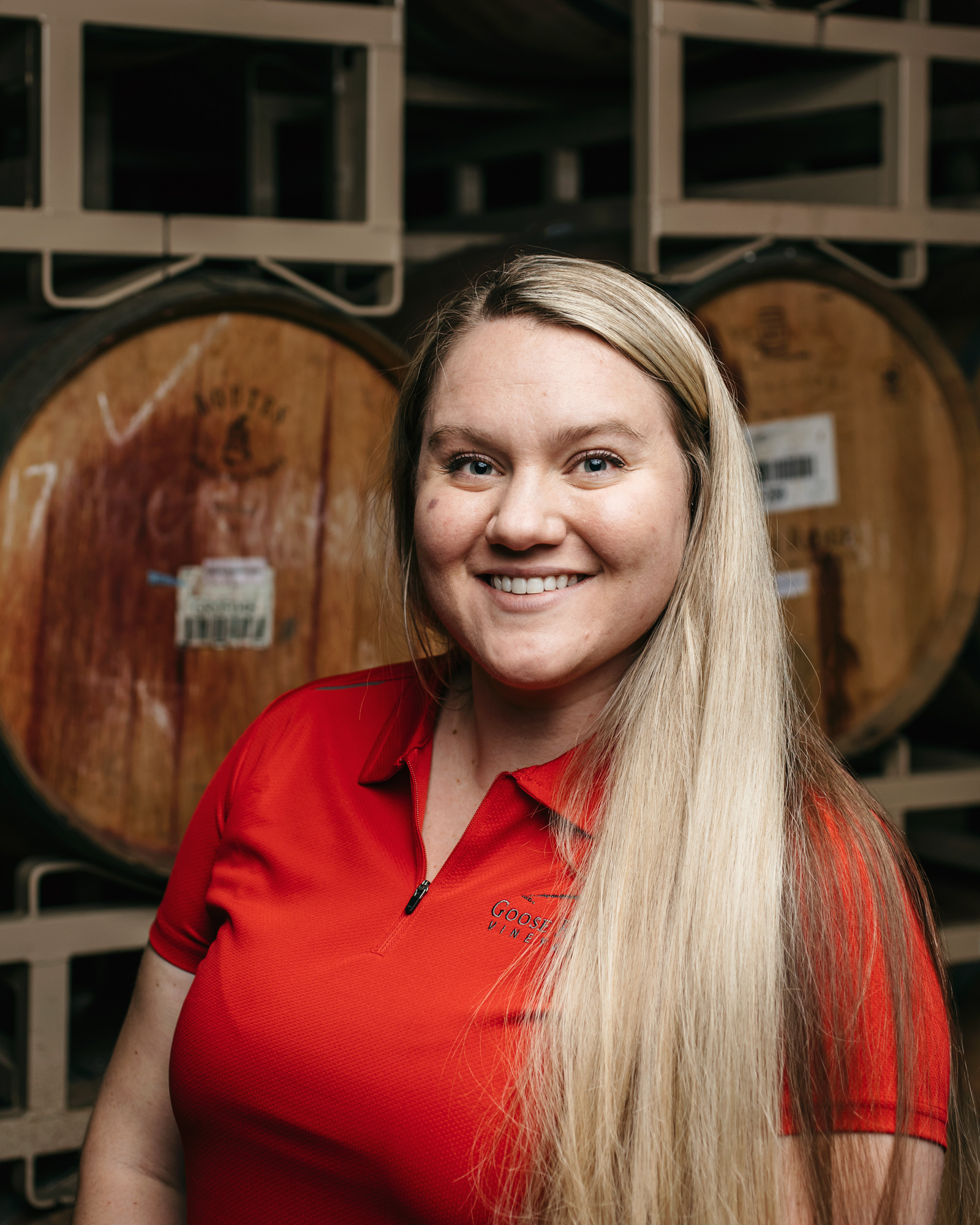 Gillian Hawkins
Winemaker
Originally from Reno, Nevada, Gillian began in the Washington wine industry as a student in Washington State University's Viticulture and Enology program. She worked two harvests as a research assistant for Dr. Pete Jacoby out of WSU Pullman, focusing on subsurface irrigation on Cabernet Sauvignon grapes at a plot on Red Mountain. After graduation, she worked with Ste Michelle Wine Estates with Kieth Kenison and Chris Velasquez as a viticulture and winery intern.
Gillian joined the winemaking team at Goose Ridge in 2019 as an Enologist where she managed the winery's lab monitoring the health of the wines and communicating data to each of the winemakers. In 2022, she was promoted to Goose Ridge small-lots winemaker, where she oversees the production and maturation of the high-end Goose Ridge Estate wines.
Working with the unique Goose Gap terroir and 100% estate wines gives Gillian the wonderful opportunity to produce unique, distinctive wine club wines and estate bottles to suit a variety of consumers while also showcasing the incredible potential of Washington wines.
Gillian's favorite wine to make is the GRV white blend with hints of melon and peach accompanied by notes of baking spice and vanilla.
Peter Devison
Consulting Winemaker
Peter Devison joined Goose Ridge in 2020 as a consulting winemaker with 20 harvests already under his belt, of those 16 were in Washington. Working as a winemaker with renowned Washington brands has resulted in positive recognition and accolades for his unique approach, artistry and philosophy in winemaking, including a focus on native fermentation.
Born and raised in Halifax, Canada, Peter worked his way through the University of British Columbia running wine programs and stocking wine shelves, all the while discovering a passion for sampling fine wines and learning the art of pairing complex notes with various cuisines. Upon completion of the many wine certification courses available in Vancouver, Peter ventured to Lincoln University in Christchurch, New Zealand where he studied enology and viticulture. After working harvests in New Zealand and Australia, Peter arrived in eastern Washington for the 2004 harvest. He quickly saw the vast potential and quality in wine growing and committed to making Washington home.