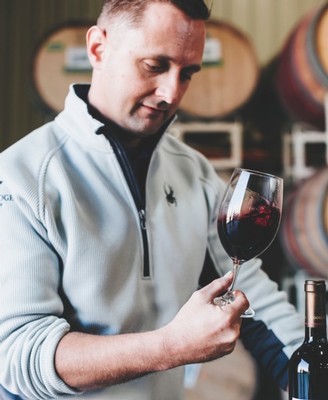 "Working with a small percentage of select rows from diverse blocks, our wines are blended to showcase the character and quality of the site."
Andrew Wilson, Winemaker
Winemaker Andrew Wilson
In 2003, with Washington's wine scene taking off, his family asked this engineering graduate to see if a farm they owned next door in Oregon was suitable for viticulture. It wasn't, but Andrew stayed and worked a harvest, studied winemaking at the local college and landed a job with Long Shadows Vintners in Walla Walla. "It was fantastic to see how world class winemakers approached their winemaking and the decisions they make. This tremendous experience really showed me the potential of Washington fruit."
Andrew Wilson brings 12 years experience working with a wide range of vineyard sites, varietals and wine styles at both large and small winemaking facilities to Goose Ridge Estate Vineyards.
In Walla Walla, Andrew worked under veteran Washington winemakers Marie-Eve Gilla at Forgeron Cellars and Gilles Nicault at Long Shadows Vintners. At Long Shadows, he was able to work alongside renowned winemakers Michel Rolland, John Duval, and Randy Dunn, learning the delicate and nuanced art of blending. Andrew then became General Manager of Artifex Wine Company, where he worked with many premium boutique Walla Walla wineries again working on a wide variety of different wines and styles.
Andrew crafts Goose Ridge wines steps away from where the grapes are grown in a state-of-the-art winery opened in 2008. Andrew's proximity to the vines is every winemaker's dream. During the growing season, he works in partnership with a vineyard team tending select blocks for low yields, vine balance and optimal canopy exposure, then tastes the fruit daily during harvest before making the call to pick.
Hand-picked grapes are transported to the winery where they receive gentle handling on the crush pad to minimize harsh tannins and bitterness before being placed in small fermentation tanks for maximum extraction, balance and flavor.
Harvest is something like a candy store for Andrew, who is free to zero in on the best fruit for the family wines – three rows here, four rows there. "Our winery is right in the vineyard, so we can react very quickly to bring the fruit precisely when it is ready."
Andrew specializes in Merlot and Cabernet Sauvignon, with a focus on an opulent, concentrated style.