Leavenworth Event Calendar
February 2020
Wine Blending with Goose Ridge Winemaker Andrew Wilson
6:00 PM to 9:00 PM
Fri, Feb 21, 2020
Venue:
Leavenworth Tasting Room
Contact:
Paula Tierney 509-470-8676,
paulat@gooseridge.com
Join us for this unique hands-on experience with Goose Ridge Winemaker, Andrew Wilson. Sample different red wine varietals and learn what differentiates them from one another. After learning about the science and passion behind blending you'll spend the evening crafting your very own wine. Once you've mastered the art, it's time to bottle, cork and take your own signature blend home. Finish the workshop by creating your own label (Sharpies provided). Our February Blending will feature Bordeaux varietals. Pre-registration required. Seating is limited
Cost: $50.00 for Members (if purchasing online, make sure your login to receive your discount),
Cost: $60.00 for Non-members
February 2020
Valentine's Day Tasting
11:00 AM to 6:00 PM
Fri, Feb 14, 2020 - Sun, Feb 16, 2020
Venue:
All Goose Ridge Tasting Rooms
Contact:
info@gooseridge.com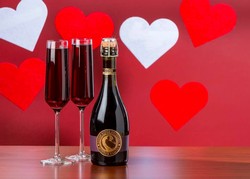 Celebrate your loved one, and your love of wine & cider, this Valentine's Day. Our tasting will not just include red wine and chocolate but also our brand new Rosé.
Whether you are celebrating Galentine's or Valentine's this is delightful tasting treat.
In celebration of Valentine's we will have this special tasting from February 14th-February 17th or until sold out
Tasting is $15 per person. No ticket required. Complimentary for our club members.
Groups of 6 or more are required to make reservations.
Woodinville reservations please email madeleines@gooseridge.com
Leavenworth reservations please email paulat@gooseridge.com
Richland reservations please email meredithb@gooseridge.com
Walla Walla reservations please email linda@gooseridge.com