Walla Walla Event Calendar
December 2019
Live Music with Jill Cohn
6:00 PM to 8:00 PM
Fri, Dec 6, 2019
Venue:
Walla Walla Tasting Room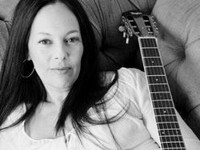 "Her songs are beautifully crafted, sometimes bittersweet and sometimes hopeful, but ever easy and melodic with soulful and savvy lyrics" - Chicago Tribune 5/2014
Songstress, Jill Cohn returns with a new release, "Heartstrings Touching Ground" produced by Grammy Award Winning Producer Malcolm Burn, who has credits with Bob Dylan, Daniel Lanois and is best known for his production on "Red Dirt Girl", by EmmyLou Harris. After hearing Jill's song, "Yellow Rose" Burns invited the Seattle Songstress to record with him in his Kingston NY studio. This collaboration has resulted in a stunning new collection of deeply personal songs with a universal message of hope.
A full-time musician since 1999, Cohn has released nine critically-acclaimed independent releases, has gained notoriety with her songs placed in popular TV shows and continues making her live shows the centerpiece of her musical endeavors. In addition to being an endorsee of TAYLOR GUITARS and ELIXIR Strings since 2001, she was a top five finalist in the Lilith Fair Talent Search and has opened for a long list of many well-known artists, but stand-outs include: David Bromberg, Cheryl Wheeler, Vonda Shepard, Loudon Wainwright, Dave Matthews and Jewel.
NO COVER