BOOK LAUNCH PARTY - Kelli Estes -
| | |
| --- | --- |
| Date: | Tue, Sep 3, 2019 |
| Time | 4:00 PM to 8:00 PM |
| Venue: | Goose Ridge Woodinville Tasting Room |
Please join us in celebrating the release of TODAY WE GO HOME! We'll have wine, cider, non-alcoholic beverages, and appetizers. The event is open-house style from 4:00-8:00pm with Kelli talking about the book at 5:00pm and 7:00pm.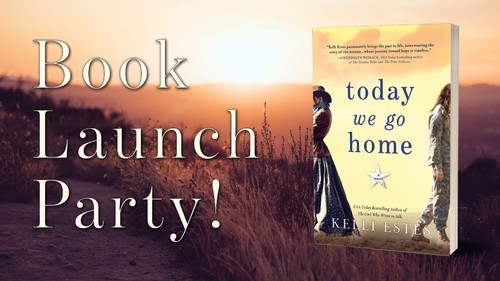 Also in attendance: two women Civil War reenactors to answer your questions about life in service - as a soldier and as a woman disgu
ised as a man!

Brick & Mortar Books will be selling copies of TODAY WE GO HOME, and Kelli will be happy to sign them for you. $15.99

Bring your family, friends, and book clubs! If you can let us know you're coming, it will help us plan for enough food, beverages, and copies of books.

TODAY WE GO HOME is a dual timeline novel about an Army veteran struggling to come to terms with civilian life who inherits a Civil War-era diary and finds herself reflected in the words of a woman who disguised herself as a man to fight the Confederacy.

The back cover blurb:
Larkin Bennett has always known her place, whether it's surrounded by her loving family in the lush greenery of the Pacific Northwest or conducting a dusty patrol in Afghanistan. But all of that changed the day tragedy struck her unit and took away everything she held dear. Soon after, Larkin discovers an unexpected treasure – the diary of Emily Wilson, a young woman who disguised herself as a man to fight for the Union in the Civil War. As Larkin struggles to heal, she finds herself drawn deeply into Emily's life and the secrets she kept.
The only thing more dangerous to Emily Wilson than a rebel soldier is the risk of her own comrades in the Union army discovering her secret. But in the minds of her fellow soldiers, if it dresses like a man, swears like a man, and shoots like a man, it must be a man. As the war marches on and takes its terrible toll, Emily begins to question everything she thought she was fighting for.
If you know you're coming, please tell us so we can get an idea of how many books and how much food we'll need. The best way to rsvp is on the Facebook event page here. If you're not on Facebook, feel free to send me an email with the number of people you're bringing with you. RSVP is not required, but is appreciated.
kelli@kelliestes.com